UPDATE: Specific dates are now live! We have 42 nights!!!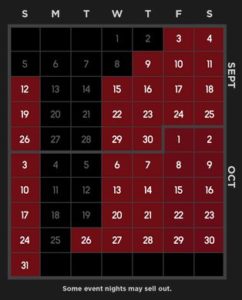 We're back and we've got some good news, it's time to mark your calendars! Universal Orlando has set the dates for "Halloween Horror Nights 30: Never Go Alone" at Universal Studios Florida. While we don't have the day specific dates just yet, we do know that HHN30 will run select nights September 3rd through October 31, 2021 for a total of 9 weekends! If they jump right into Wednesdays minus the first weekend, we are looking at a maximum of a 43 night event. Granted, there are usually a couple weeks without Wednesdays and typically a buy out night or two. Even so, it's possible we are looking at 40 nights of mayhem.

What we know so far:
Dates: Sept 3 – Oct 31
Tagline: Never Go Alone
Houses:
HHN Icons: Captured*
Puppet Theatre: Captive Audience (Announced on Peacock)
Revenge of the Tooth Fairy (Returning from HHN Lite)
Universal Monsters: The Bride of Frankenstein Lives! (Returning from HHN Lite)
Welcome to sCarey: Horror in the Heartland*
The Wicked Growth Realm of the Pumpkin*
The Haunting of Hill House*
Beetlejuice (Returning from HHN Lite)
The Texas Chainsaw Massacre*
Unknown replacement for the scrapped Billie Eilish house*
*Unannounced and/or unconfirmed.
Scarezones: Currently unknown
For more coverage and information be sure to follow us on Twitter at @HHNRumors.
For official news and updates, be sure to check out the official HHN Orlando website: https://orlando.halloweenhorrornights.com
HHN30 will operate select nights Sept 3 – Oct 31 2021. Tickets hopefully on sale soon!