One of the biggest rumors floating around the interwebs for this year's Halloween Horror Nights includes a powerhouse IP known to many as the new king of horror, Blumhouse Productions. If you aren't familiar with the name, I can assure you that you are familiar with their work. They are the people behind some of the biggest new horror franchises and movies currently in the industry, big names like "Insidious, Paranormal Activity, Sinister, The Purge" and many many more. So when you hear a rumor that Blumhouse is getting a house all to itself, you ride a rollercoaster of emotions. First, you climb to the top with excitement and then you crash down back into reality when you realize a ton of properties will all be smushed together into one house. Ideally, it would be a multi-year house and we'd just get a couple of IPs a year, much like AHS. In any case, I'm sure it'd be awesome!
So what's new with the rumors? Well we can add a little more fuel to the fire since we seemingly now have a name for the rumored maze.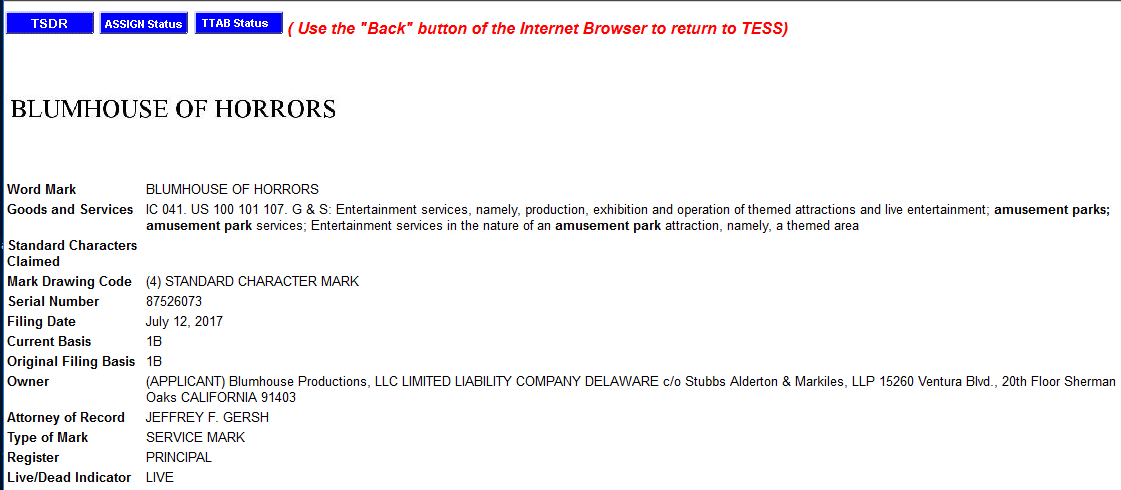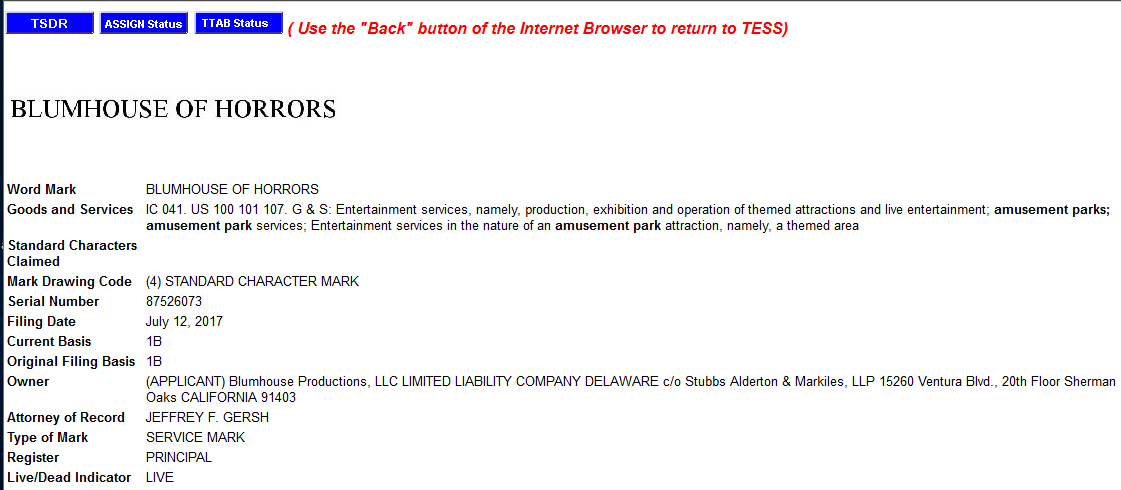 On July 12, 2017, Blumhouse Productions filed for a trademark for the name "BLUMHOUSE OF HORRORS" and while we cannot confirm that this is indeed for Halloween Horror Nights 27, we do know that this was filed for trademark in the Entertainment services section on the U.S. Patent and Trademark Office. The description for "Entertainment Services" reads as follows: "Entertainment Services, namely, production, exhibition and operation of themed attractions and live entertainment; amusement parks, amusement park services; Entertainment services in the nature of an amusement park attraction, namely, a themed area."
So take that as you will but considering the time of application and the heavy rumors surrounding Blumhouse at the event, we'd be surprised if it didn't happen at this point. Granted, it wouldn't be the first time things changed last minute.
Also should note, the image at the top is from an old attraction. These are just rumors, nothing is official at this point. Halloween Horror Nights 27 runs select nights September 15 – Novemeber 4, 2017.