As we say a bittersweet goodbye to Halloween Horror Nights 29, Universal Orlando knew exactly what we needed: Dates for HHN 30! Halloween Horror Nights 29 ran for what felt like an eternity with 42 nights, many were speculating that for HHN30, we'd get a solid 50 nights. That didn't exactly pan out.  We were given 39 nights, which could easily expand to 40 nights should they add a random Monday in there at any point during the run, like they frequently do.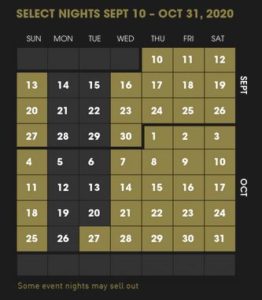 Many are quick to notice that it's starting later this year (Sept. 10 vs Sept. 6 for 29) and I think that says a lot about how the crowds were early on during HHN29. Opening night will always be packed, that would happen even if it was in March, but the rest of the early September days weren't nearly as crowded. Great for fans, not so great for the company. So what did they do to appease the fans? They start early! For the first time ever, opening night will be on a THURSDAY! As Mike Aiello would say, "This checks all the boxes." You get your early start, while still keeping the park full of guests. Win/Win! The event also ends on Halloween this year, so expect that to be a busy night.
That being said, mark your calendars and I'll see you September 10th, 2020!
Halloween Horror Nights 30 at Universal Orlando Resort, is scheduled to run select nights, Sept 10 – Oct 31, 2020! For more information, be sure to check out the official Halloween Horror Nights website: https://orlando.halloweenhorrornights.com
Be sure to keep up with all of the HHNRumors by following us on twitter. We've got info and giveaways! Check us out @HHNRumors