As we salvage what we can from 2020, there is a glimmer of hope. The Halloween Horror Nights tribute store is now open! This scareactor-free store sets the mood of what would have been HHN30, in the 2 currently open rooms (more on that in a bit) you come face to face with the infamous Jack the Clown (in mannequin format) and Frankenstein's monster.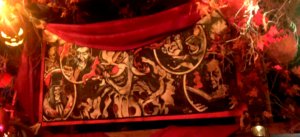 Park-goers can shop for generic Universal Monsters merch, check out the scenery, and even pick up some retro HHN merchandise in the store. There are also some unique items that can only be found in the tribute store, such as custom painted skulls and Halloween masks.
So back to the "2 currently open rooms" – one is a circus theme which contains a select few of the HHN icons of yesteryear on various posters and artwork in the room, and the other is Frankenstein's lab which is where you'll find the classic monster merch, an in use lab, and of course his monster! There are also some hints at yet another room, a secret room, that will be opening at a later time. We don't currently know what they have planned for this mysterious room, but there is a poster on the "emergency exit only" door that reads. "Has more to come still. A secret room awaits you! What could it be? Just wait and see!" In any case, hopefully the "coming attraction" will open soon.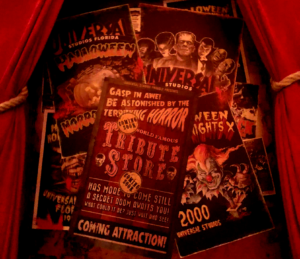 What once was HHN30, is now two rooms in a store that is selling merch that you can mostly buy online. The tribute store will remain open through the fall, though no close date has been determined at this point. Be sure to check it out on your next in park visit at Universal Orlando Resort.