On Tuesday October 27, 2020, Universal Orlando announced the first house for HHN 2021: "Puppet Theatre: Captive Audience" and also set the new date to beat for earliest announcement. The house wasn't just announced, they also brought in the big guns: Michael Aiello, Charles Gray, and special guest Greg Nicotero to give us a behind the scenes look.

The video starts with a very welcoming narration by Mike Aiello, who calmly tells us to lock our doors and turn out the lights. During the video, we are given a lot of tidbits about the house. We learn that it's set inside of "the Grandeur Theatre" in San Francisco during the early 1900s and that the theatre has collapsed.  Inside, you'll find "Pasek's Puppet Troupe" who were trapped inside when the building collapsed. The puppet troupe starts losing their minds and begins turning the patrons into puppets. Charles goes on to mention how super gory the house will be. Be sure to check out the video for even more information.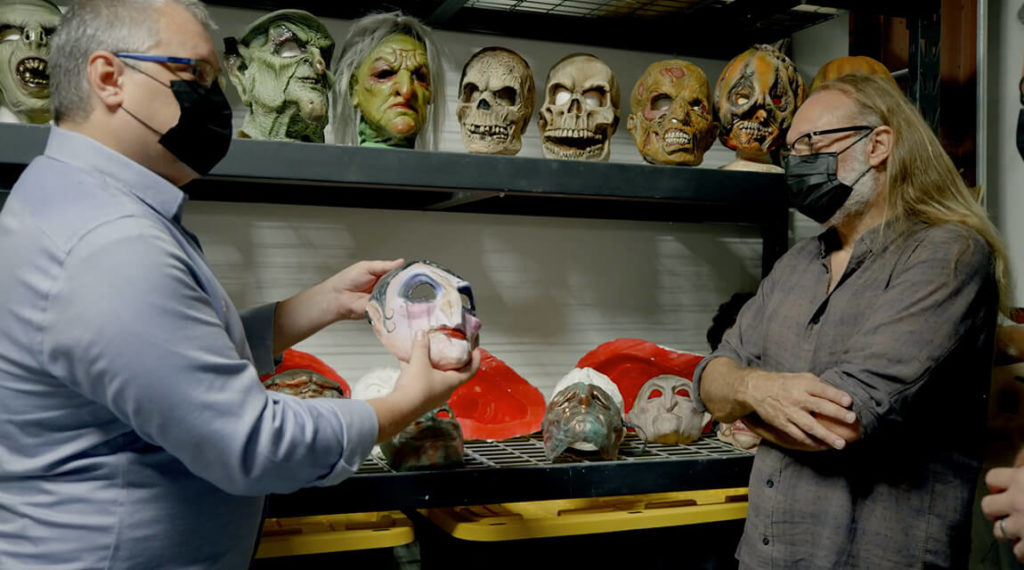 The next part of the video takes place in the Universal Orlando Makeup Lab. This is where all of the masks and characters come to life. We get a good look around in the room and some eagle eyed viewers will notice some easter eggs in the shop. Most are quick to point out the "Meaty Meetz" mask that can be seen in the corner between the racks in certain shots. Some other things to note here are the masks on the "middle" row right at their eye level. Those masks are allegedly to be part of the house that is rumored to be named "The Wicked Growth Realm of the Pumpkin." So that is a nice treat. There is also a mysteriously blurry mask that appears in the background that some have attributed to be a Jack mask. Let me know if you find anything else!
That about wraps it up for this dive into HHN2021. Also note that Puppet Theatre will be exclusive to Universal Orlando's Halloween Horror Nights in 2021. It's still very early for details on next year's event. Be sure to stay tuned to HHNRumors on Twitter and as always, check out https://orlando.halloweenhorrornights.com for official info.