On Sept 18-20, Universal Orlando ran a Halloween Seasonal Experiences Test for it's daytime park guests. The most notable test was that they included access to 2 of the 10 Halloween Horror Nights houses, Bride of Frankenstein: Lives! and The Revenge of the Tooth Fairy, at no additional charge. It was most definitely a hit.
So what was announced? Extended dates and no longer a test. They are really pushing for it, too, as they added an additional 32 event dates to the calendar. We are getting the last weekend of September (26-27) and then the event switches to DAILY operations from October 3 – November 1. Not announced: they have quietly added hours to certain days, so do check if you get some bonus time before you head over.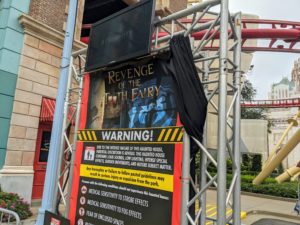 What is Halloween Seasonal Experience? It's a lot of things. Access to haunted houses is likely the part that most would care about, but it's so much more than that. During HHN, you are NOT allowed to wear a costume, at HSE, it's encouraged. They've introduced a "Scarecrow Stalk" which is a fun way to KILL some time during the day while waiting for your haunted house return times. They've also added Trick or Treating to Islands of Adventure. Another big plus is the addition of HHN food and drink staples like Twisted Taters and Pizza Fries. Last but not least, the HHN Tribute Store is also open.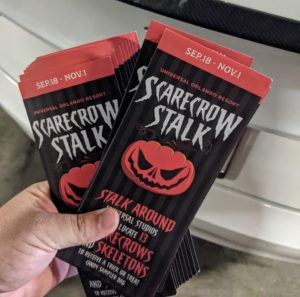 Why Halloween Seasonal Experience and why not HHN? There are some quick differences. For starters, they've already announced HHN 2020 was cancelled, so it would be irresponsible to call this HHN. It's also taking place during the day, and Halloween Horror Days just doesn't hit the same. HHN requires a hard ticket, HSE is included with your day ticket. Then there is the whole point of trying not to confuse the general public, so just call it something else entirely.
Things you'll need to know. The haunted houses are VIRTUAL LINE ONLY. So you'll want to have the Universal Orlando app installed and configured BEFORE you get to the park. On busy days, the haunted houses hit "capacity" nearly instantaneously at park open. You do need to be in the park to make virtual line return times. The virtual line isn't flawless (yet) and you'll still be waiting in a socially distanced line. It is much shorter than a normal haunted house line at Universal Orlando, but it's important to know that it's day time. These lines are NOT covered, you are likely to get sunburn or rained on, so you'll want an umbrella to stay protected.

Some speculation? Yeah, why not? So, if you've been to the park on a weekday, you may have noticed the crowds aren't quite there. Do the haunted houses really need to run for a minimum of 8 hours a day? Probably not. It's costly. I'm thinking something along the lines of an upcharge daytime tour that could take place in the morning for the haunted houses and then say in the afternoon, they could operate as normal, thus optimizing the house use for the day. It's probably just wishful thinking.
Halloween Seasonal Experience runs Sept 26-27 and Oct 3 – Nov 1 during normal park hours. For more information, be sure to check out https://universalorlando.com