UPDATE: SCREAM has been "Purged"
The latest horror franchise to appear at HHN 25 is an all time great: SCREAM. A tipster has "uncovered" a not yet public image hiding on Universal's servers on their fancy new "moments" sweepstakes page which features the iconic SCREAM logo. Since it's yet to be announced, it doesn't mean it's 100% locked in and is subject to change. Considering it was previously rumored, it would be shocking if it doesn't get announced.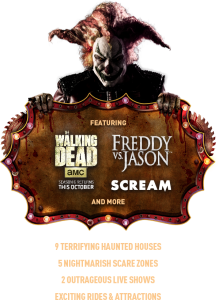 (https://moments.universalorlando.com/images/hhn/jack_3.png)(mirror)
Although this is the first "official" maze for the franchise at HHN, there has been plenty of scream related references throughout the years. It only makes sense for one of the most iconic horror franchises ever to make an appearance during HHN's iconic 25th year. I'm willing to bet that this will be the fancy new MTV reboot version of SCREAM as it's likely more relevant to the target demographic. Sadly the new scream face has more in common with HHN Hollywood's announcement of Jabbawockeez than the original movies. More information will be available when Universal officially announces this maze in the coming days.