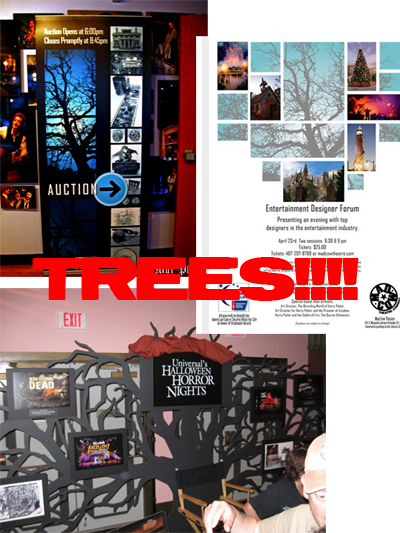 TREES!!!! They are everywhere, but apparently are involved with HHN? Maybe we are reading too far into this. Maybe not? As you can see, the trees continue to pop up everywhere. I'm by no means to originator of this (not so) crazy concept but this does seem like something A&D would do as a hint. They've done stuff like this before, so I wouldn't put it past them. Speculation has been all over the place. From trees starting with seeds, the very obvious family tree idea and of course The Root of all Evil.
Although this isn't by any means my "exclusive" content – I figured it was worth noting. Credit to whoever discovered the hidden clue! UPDATE: Charles (The real Dr. Raymond Holmes) has taken ownership of this idea
In other news! It looks like I'll be designing/producing shirts this year! Now for the good part! If all goes as planned, the shirts will sell for $10 SHIPPED! So keep an eye out, they could pop up at any time!
Goodness, I feel as though I'm rambling… the latest HHNRumors project (Project Wait4Ever as I like to call it) is nearly completed. For those who don't know about the project, I can't blame you. I made up the project name minutes ago. However, the goal of the project is to bring UNI and IOA wait times to cell phones everywhere via SMS. I'll have you know it's working and currently being field tested! Expect to see that soon too! K I think I'm done rambling, you are free to leave.