The wait is finally over! I'm happy to say that Halloween Horror Nights 2019 is now open! Today, at 6:30pm, guests were finally able to make their way into the park and experience the 10 all-new haunted houses, 5 terrifying scare zones, and the two new shows.
Here are a few things that guests can expect:
Scares (and lots of them)
Theme to the max!
Amazing entertainment
Delicious food
Let's talk about the scares. For starters, the second you enter the gate of Universal Studios Florida, you are fair game. The streets of the once family friendly theme park are littered with scareactors and various themes with only one goal, to make you as uncomfortable as possible and scare the crap out of you! This year's event brings 5 new scare zones.

Zombieland Double Tap
Rob Zombie: Hellbilly Deluxe
Anarch-cade
Vanity Ball
Vikings Undead

As I mentioned, each and every one of these scare zones is themed and filled with scareactors who are there to get in your face and make you cry. Each zone having it's own unique twist because let's face it, not everyone is scared of the same thing. You can read more about the scare zones in my previous blog post – Here.

The scares don't stop with the streets! There are 10, yes, 10, all-new haunted houses for HHN29. So, streets and scare zones are a nice welcome mat for the real attraction, the haunted houses. Let's just say if you can't make it past the welcome mat, then, well…. there is a not so scary park with pacifiers down the road, ya big baby! These haunted houses aren't your neighborhood garage haunts either. You'll want to put your big-boy pants on because these houses bring the heat. Here is the line up for HHN 2019 Orlando:
Yep, you read that right. Those are some big names for this year's event. Each house is meticulously detailed with all sorts of scenic design and made with love, err, death? It's a blurry line there, but these are movie quality sets. In Ghostbusters, you enter the firehouse and you feel as if you are joining the team. In Stranger Things, you visit the Starcourt Mall, you see the Mind Flayer (and it's huge), just like you are hanging with the kids. You get the idea? It's an experience you won't forget, no matter how hard you try. More about the houses can be found by clicking on each of the house names in the list above.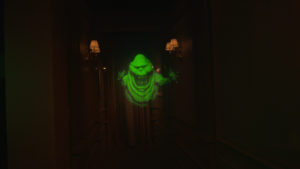 So we've covered the things that will scare you, now we need to talk about why HHN is king when it comes to Halloween events. It has a lot to do with how detailed and themed everything is around the park. The attention to detail is what sets Universal Orlando above the rest. I previously mentioned the movie quality sets in the haunted houses. Again, using the welcome mat analogy, it's the tip of the iceberg. The entire park has themed elements all throughout, not just in the streets where the scarezones take place, but the stores and shops all throughout the park are also extremely themed. Step inside of the HHN Tribute store and you'll get the general idea. It's photo worthy all by itself and it's just a store. The fog, the lighting, the smells, the atmosphere, the sounds of screaming at every turn, it's unmatched. Where other events use gimmicks, Universal uses it's 100+ years of experience. They are untouchable in this game of king of the hill.
Entertainment. Universal is bringing 2 new shows this year. The main show is put on by the legendary dance group, Academy of Villains. We've seen AoV in the past and their show is very intense and really fits the event just nice. It's an extreme energy party with the best dancers you've ever seen. I often feel exhausted just watching them perform their show. The second show this year is brand new to Horror Nights, Halloween Marathon of Mayhem. It's a lagoon show which is using the fancy new fountain system Universal uses during normal operation, but this is not the ordinary show. It's all new and features a ton of special effects and familiar properties from this year's event.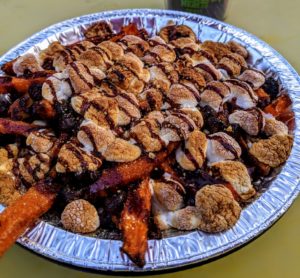 Dining at Halloween Horror Nights is yet another reason HHN is the place to be. During the day time, Universal has plenty of gourmet food options. During HHN, those are still there, but they've also added some event exclusive options which are to die for. This year's event has added a whole slew of themed options from Stranger Things Season 3 by way of the "Starcourt Mall Food Court" which seems to be normal tent food stands and treat offerings. Reporting on HHN food and not mentioning Pizza Fries would be irresponsible. THEY ARE BACK! If you haven't tried them yet, do yourself a favor. I'm more of twisted taters kind of guy (which are also back) but the pizza fries are also pretty dang amazing. They didn't stop there, because of course they didn't! They've leveled up and created a new concoction known as S'mores fries! For the uninitiated, S'mores fries are sweet potato fries with regular and white chocolate chips and marshmallows and it's tops! Those options can be found in/near the Kid Zone side of the park.
So there you have it! Halloween Horror Nights 29 (2019) is officially open and there is no denying it's a hit. I plan on at least 20 trips this year, so if you want to follow along, be sure to follow me on Twitter @HHNRumors. To get your tickets and more information, be sure to check out the official Halloween Horror Nights Orlando website here: https://orlando.halloweenhorrornights.com
See you in the fog!